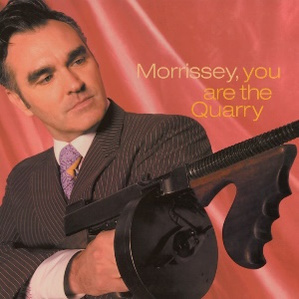 You Are The Quarry will be 20 years old in 2024.

The album sold over 1 million copies.
Sweden #1
England #2
Ireland #3
Norway #5
Finland #8
Portugal #10
USA #11

As usual, the album was not well received by the UK press, where it was certified as Platinum.
You Are The Quarry was the only album of 2004 that managed four top ten hit singles.
Irish Blood, English Heart #3
First Of The Gang To Die #6
Let me Kiss You #8
I Have Forgiven Jesus #10

There is no commemorative issue planned for You Are the Quarry, which was licensed to BMG UK in 2017 for new release.
BMG did not re-issue You Are the Quarry and have no plans to.